Multimedia
Videos
Photos
Audio
Secretary-General Antonio Guterres delivers message of peace

The new UN Secretary-General, Antonio Guterres, has delivered a message of peace.

UK to bolster support for UN mandate in South Sudan

"It is critical that the stakeholders come together under the national dialogue and we resolve issues of conflict and tensions that are around the country."

That's the view of the UK Minister for Middle East and Africa, Mr. Tobias Ellwood. He visited South Sudan on Wednesday, to affirm his government's commitment to support for stability in South Sudan.

Mr Ellwood told Radio Miraya that up to 400 UK armed forces personnel will be deployed to bolster the UN peacekeeping mission in South Sudan.

"We want to see a peaceful and prosperous country and it is in everybody's interest to work together for the benefit of the country."

Sani Martin asked Mr. Tobias Ellwood to explain the UK government's strategy for peace and stability in South Sudan.
twitter
Facebook
UNMISS PHOTO of the WEEK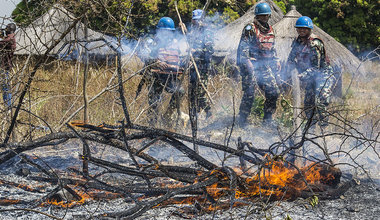 UNMISS Peacekeepers helping local resaidents to put out a fire in Yei during an integrated mission to the area. UNMISS/Isaac Gideon