Who we are
The Office of the Gender Advisor (OGA) works to implement UN Security Council Resolution (UNSCR) 1325 on women, peace and security. It coordinates with other UNMISS sections and external partners to develop a mission and country-wide gender strategy.
Why we are here
The United Nations recognizes the need for full, equal and effective participation of women at all stages of a peace process, emphasizing the vital role of women in preventing and resolving conflict, as well as in peace-building.
 
In post-conflict South Sudan, the Office affirms the key role women can play in re-establishing society and stresses the need to involve women in developing and implementing post-conflict strategies. 
What we do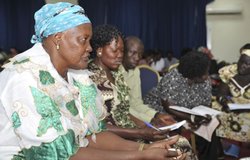 The OGA carries out the following activities at national and state levels:
Advocates with government and other partners on all forms of gender-based violence;
Establishes partnerships with mission components, government, UN Country Team, national and international non-governmental organizations (NGOs) and wide range of civil society organizations;
Provides training and technical advice for counterparts to promote women's participation in decision-making;
Raises awareness of women's role in promoting peace and security;
Develops simplified training materials on gender issues;
Provides technical and substantive support and training for all mission components in gender mainstreaming.
What we have done
As a leading actor in the women, peace and security agenda in South Sudan, the OGA has: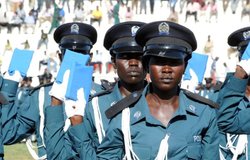 Coordinated implementation of UN Security Council resolutions on gender, peace and security;
Provided technical guidance to UNMISS sections, the South Sudanese government (at national and state levels) and civil society organizations;
Supported advocacy on processes for eliminating discrimination against women;
Supported women's civic engagement, including their involvement in constitution making process; 
Supported development of National Action Plan for UNSCR 1325;
Supported training in gender affairs for Sudan People's Liberation Army (SPLA) and South Sudan National Police Service (SSNPS); 
Advocated for and promoted awareness about role of women in peace and security, women's political empowerment, and issues addressing and preventing Sexual and Gender-based Violence (SGBV); 
Advocated with government and institutions like SPLA, SSNPS and civil society organizations, as well as UN agencies at national and state levels, on SGBV;
Worked with members of national and state legislative assemblies for gender responsive legislation and policy development;
Ensured that gender mainstreaming required of peacekeeping operations is maintained in UNMISS.
Where we are
The Office of the Gender Advisor is represented by 11 national and/or international staff in nine of the 10 states of South Sudan (all state capitals except Kuajok, Warrap State).
Who we work with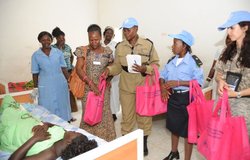 The OGA works with relevant U NMISS sections, government ministries, UNICEF, UN Women, UN Development Programme and UN Population Fund, as all as local and international NGOs. 
The road ahead
Within UNMISS, the OGA will support gender training and mainstreaming, primarily through establishment of the UNMISS Gender Taskforce and focal points to monitor progress of mainstreaming gender in various sections/units.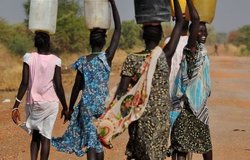 The Office of the Gender Advisor will continue to promote participation of women in decision- making and advocate for their protection from all forms of gender-based violence. It will support national and state governments with gender training, one-to-one mentoring and advocacy for gender mainstreaming within government structures at all levels. It will advocate with the government to put in place or ratify legal frameworks for gender work.