Who we are
Established in 1997, UNMAS leads, coordinates, and implements mine action and supports the UN's vision of "a world free of the threat of landmines and unexploded ordnance, where individuals and communities live in a safe environment conducive to development, and where mine survivors are fully integrated into their societies." UNMAS is the global coordinator for all UN Mine Action. Situated within the Office of Rule of Law and Security Institutions (OROLSI) in the United Nations Department of Peacekeeping Operations, UNMAS works to ensure an effective, proactive and coordinated response to mines and explosive remnants of war (ERW), including cluster munitions, by collaborating with 11 other UN bodies.  
Why we are here
The explosive legacy of conflict in South Sudan means that nearly eight million people live in counties which are impacted by landmines and explosive remnants of war (ERW). Ninety four million square meters of land contaminated by explosive hazards are currently recorded in the mine action database but the full extent of the issue is still unfolding with an average of 150 new hazardous areas found each month. The presence of explosive hazards not only threatens safety in terms of harm from explosion, such hazards place a barrier between communities and the resources or services they need. Between October 2015 and September 2016, 384 infrastructures sites, including market places and water points have been cleared to provide civilians from the life-threatening impacts of landmines and unexploded ordnance. One hundred and twenty schools were cleared to ensure children could safely access education facilities and airstrips and helicopter landing sites across the country were cleared 26 times during this period. This enabled humanitarian aid and staff to reach areas of need. Nineteen explosive ordnance removal tasks were also completed to enable the safe expansion of Protection of Civilians (POC) sites and to remove explosive hazards from their midst. In the aftermath of the July conflict, UNMAS was a critical first responder, rapidly deploying to remove explosive hazards from key UN locations including the apron of the Juba airstrip, WFP and other agency compounds, UNMISS bases and POC sites. Explosive hazards were also removed from schools and residential areas.
Many more critical sites remain impacted by explosive hazards and with each passing day of the escalating conflict, this number increases. Throughout South Sudan, explosive hazards block the vital delivery of humanitarian aid, prevent socio-economic development and curtail safe movement. UNMAS assistance facilitates the life-saving work of UNMISS and humanitarian partners. As the United Nations Secretary-General has previously stated: "Mine action is critical for effective humanitarian response in conflict and post- conflict settings".
What we do 
UNMAS operations support three of the four mandated activities, namely protection of civilians, creating conditions for delivery of humanitarian assistance, and providing support to monitoring, investigating, verifying, and reporting human rights issues, such as the use of cluster munitions.
To achieve this, UNMAS coordinates and tasks mine action teams with a variety of manual, mechanical and canine capacities to perform the following tasks:
Survey and clear mines, ERW and ammunition stockpiles.
Conduct route verification and clearance in response to credible threats and provide escorts for convoys on high-threat routes to enable the delivery of humanitarian assistance.
Monitor, investigate, verify, and report on the use of indiscriminate explosive weapons such as cluster munitions.
Provide risk education to enable people to recognize, mitigate and report explosive hazards in their midst; and awareness training to UN staff and humanitarian actors.
Collect data, map new hazards, and disseminate threat information to humanitarian partners.
Conduct entry point control and search activities with Explosive Detection Dogs.
What we have achieved
Since 2004:
Over 1,174,888,730 square metres of land have been cleared or verified as being free of ERW;
Mine Risk Education (MRE) continues to target at-risk populations such as internally displaced persons (IDPs) and refugees. So far, 3,111,403 women, girls, men and boys have received MRE;
13,334 hazards have been closed;
5,727 anti-tank mines destroyed;
31,240 anti-personnel mines destroyed;
892,180 unexploded ordnance destroyed;
2,900,328 small arms ammunitions destroyed;
Since the recent conflicts of December 2013 and July 2016, UNMAS has cleared all UNMISS Protection of Civilians sites of ERW and responded to every incident of explosive weapons strikes in and close to UN bases.
Where we work
UNMAS South Sudan Head Quarters are located within UNMISS Tomping, in Juba. Sub-offices are located in Bentiu, Bor, Malakal and Way. Mine Action Teams are roving and are tasked throughout the country to respond to carefully prioritized tasks. Teams can be found throughout the country in areas contaminated by explosive hazards and these areas are illustrated in the map below.
Should you see something that looks suspicious and that you think might be ERW, call the mine action hotline on 092 000 1055.
Who we work with
UNMAS works through commercial companies and non-governmental organizations (NGOs). As of June 2014, UNMAS had contracts with four demining companies. UNMAS also works in close collaboration with international mine action NGOs, including the Danish Demining Group, the Mines Advisory Group, Norwegian People's Aid, DanChurchAid and Handicap International.
The road ahead 
The current crisis increased the threat from mines and ERW to communities, humanitarian actors and UNMISS. Additional assets like Explosive Detection Dogs have been brought in to identify explosives that were smuggled into protection sites and UNMISS protection sites. Also, route verification and clearance teams are being used to verify, clear, or escort convoys on routes that have been identified as having a high threat from mines.
As the IGAD Monitoring and Verification Mechanism (MVM) becomes operational, UNMAS assistance may be required to facilitate its activities in specific areas. Additional resources may be required to support MVM tasks while continuing to prioritize protection of civilians in accordance with the mandate.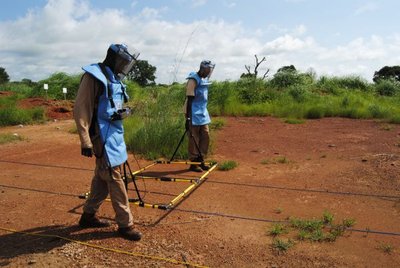 Although not specifically mentioned in the new mandate, mine action remains a core function to successfully implement it, specifically protect civilians, UN staff and humanitarian workers, and support the safe delivery of humanitarian assistance as well as IDP/refugee returns.