Who we are
Established in 1997, UNMAS leads, coordinates, and implements mine action and supports the UN's vision of "a world free of the threat of landmines and unexploded ordnance, where individuals and communities live in a safe environment conducive to development, and where mine survivors are fully integrated into their societies." UNMAS is the global coordinator for all UN Mine Action. Situated within the Office of Rule of Law and Security Institutions (OROLSI) in the United Nations Department of Peace Operations, UNMAS works to ensure an effective, proactive and coordinated response to mines and explosive remnants of war (ERW), including cluster munitions, by collaborating with 11 other UN bodies.  
Why we are here
The explosive legacy of conflict in South Sudan means that an estimated eight million people live in counties which are impacted by landmines and ERW. Over 45 million square meters of land (approximately 6,303 football pitches) contaminated by explosive hazards are currently recorded in the mine action database; however, ongoing conflict generates additional hazards every day. An average of five new hazardous areas are discovered each day; and UNMAS responds and clears seven explosive hazards on average daily.  The presence of explosive hazards not only threatens the safety of civilians in terms of physical harm from explosion, but such hazards are a barrier between communities and the resources or services they need.
What we do 
UNMAS operations support the four core UNMISS mandated activities, namely, protection of civilians, creating the conditions for the delivery of humanitarian assistance, monitoring and investigating human rights violations, and supporting the implementation of the Agreement on the Resolution of the Conflict in South Sudan.
To achieve this, UNMAS coordinates and tasks Mine Action teams with manual, mechanical, and canine capacities to perform the following tasks:
Survey and clear mines, ERW, and ammunition stockpiles.
Conduct route verification and clearance to allow safe access and to enable the delivery of humanitarian assistance.
Monitor, investigate, verify, and report on the use of indiscriminate explosive weapons, such as cluster munitions.
Provide risk education to enable people to recognize, mitigate, and report explosive hazards in their midst; and awareness training to UN and humanitarian personnel.
Collect data, map new hazards, and disseminate threat information to UN and humanitarian partners.
Conduct entry point control and search activities with explosives detection dogs (EDD).
Monitor and assure the quality of mine and ERW clearance work conducted in South Sudan.
What we have achieved
Since 2004:
Over 1.2 billion square metres of land (168,067 football pitches) have been cleared or verified as being free of mines and ERW;
Over 32,000 anti-personnel mines destroyed;
Over 5,800 anti-tank mines destroyed;
Over 950,000 items of unexploded ordnance destroyed;
Over 3.5 million bullets destroyed;
Nearly 4 million women, girls, men and boys have received risk education.
This work has made safe:
infrastructures and sites, including 1,062 water points, 311 markets, and 173 health clinics, to enable civilians to access them and resume their daily lives; and,
217 schools to ensure children can study safely.
In the aftermath of the July 2016 conflict, UNMAS was a critical first responder, rapidly deploying to remove explosive hazards from key UN locations including the apron of the Juba airstrip, WFP and other agency compounds, UNMISS bases and POC sites. Explosive hazards were also removed from schools and residential areas.
Where we work
UNMAS South Sudan Headquarters are located within UNMISS Tomping, in Juba. Field offices are located in Bentiu, Bor, Malakal, and Wau. Mine Action teams are roving and are tasked throughout the country to respond to carefully prioritized tasks.
Should you see something that looks suspicious and that you think might be ERW, call the UNMAS 24-hour hotline 092 000 1055; or email us at report@unmas.org.
Who we work with
UNMAS works with commercial actors and non-commercial actors, both international and national non-governmental organizations (I/NNGOs). As of August 2018, the international mine action NGOs currently working in South Sudan are the Danish Demining Group, DanChurchAid, and the Mines Advisory Group. Additionally, UNMAS works, in close collaboration with the National Mine Action Authority (NMAA), to oversee 21 Mine Risk Education partners in South Sudan.
The road ahead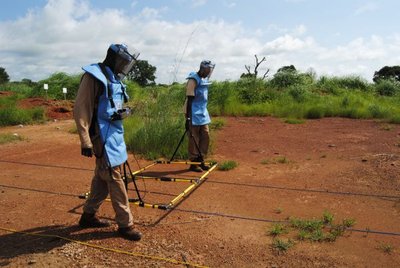 Many more critical sites remain impacted by explosive hazards and the ongoing conflict generates additional explosive hazards each day, which block the vital delivery of life-saving and emergency humanitarian aid, prevent socioeconomic development, and curtails safe movement by civilians, humanitarians, and peacekeepers.  As the United Nations Secretary-General has stated, "In our turbulent world, Mine Action is a concrete step towards peace.[1]" UNMAS will continue to respond to all reports received to provide a safe and secure environment for the people of South Sudan.
Follow @UNMAS to learn more about our work.