UN Police (UNPOL) are vital in helping to promote peace and security. Every day, they work to maintain public safety and security within UNMISS protection of civilians sites in accordance with international human rights standards, assisting with a wide range of activities.
The UNMISS UNPOL force comprises 561 men and women coming from 38 countries. 
"In addition to protecting individuals, they [UN Police] help society as a whole by redefining the role of policing in countries emerging from conflict, forging trust in uniformed police, establishing faith in national justice systems and fostering confidence in peace processes."
Ban Ki-moon
United Nations Secretary-General
Why we are here

UNPOL aims to:
Protect civilians under threat of physical violence, irrespective of the source of such violence, within its capacity and areas of deployment;
Monitor, investigate, verify, and report regularly on abuses and violations of human rights and violations of international humanitarian law;
Contribute to the creation of the conditions for the delivery of humanitarian assistance.
What we do
a) Training

Train, mentor and advise SSNPS to strengthen capacities in areas like investigation of serious crimes and crime scene management, forensic science, and border management training;  
 
Support training of SSNPS on security measures with strong government support, like small arms control; security for important events (such as elections), border management, intra-tribal conflicts and transnational organized crime; 
Support development of additional specialist crime investigation and operational units;
 
Assist in improving policing skills of SSNPS officers down to county level through on-the-job training, mentoring, advising and co-locating;
Provide training at SSNPS training facilities on evaluating and responding to public order disturbances and other emergencies;
 
Promote cross-service co-operation (e.g. police, justice, corrections) through joint training and exercises.
Training conducted by UNPOL has included courses in middle management, community policing, livestock patrol, traffic management, criminal investigation, basic English, computer skills, leadership and gender, child and vulnerable person's protection.
 
b) Policing
Support development of systems on crime prevention and investigations, oversight and accountability, policing and public order management;
Strengthen administration and planning capacity of police at national and state levels, including management and oversight capacities;
Strengthen communication, reporting, coordination, command and control at national, state and county levels;
Encourage community participation in policing to assist SSNPS in becoming responsive to people's needs.
c) Police Reform
Restructure, reform and develop the capacity of the SSNPS to ensure delivery of a professional and accountable police service responding to the needs of South Sudanese people.
 
d) Protection of Civilians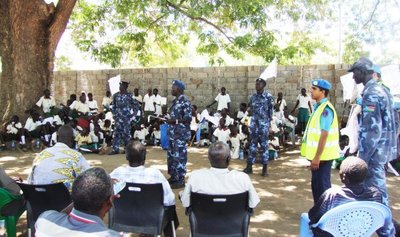 The UNPOL Diplomatic Protection Unit (DPU) was formed in January 2012 to protect diplomatic and UN staff as well as assets throughout South Sudan. DPU Staff has been training the SSNPS with the ultimate goal of creating a national DPU of 1,000 staff across South Sudan.
UNPOL DPU also co-locates with SSNPS DPU daily, providing advice, assistance, mentoring and on-the-job training during operational deployments at UN camps and diplomatic premises as well as during mobile patrols. 
Additionally, UNPOL DPU provides a 24/7 emergency Quick Response Team (QRT) to assist UNDSS with Status of Force Agreement-related violations.
Where we are
Headquartered in the capital Juba, UNPOL has a presence in all 10 South Sudanese states.