Who we are
The Political Affairs Division monitors and assesses political developments in South Sudan. It provides political advisory services to UNMISS leadership and the mission as a whole.
Why we are here
The primary role of the division is to support the mission's mandate to consolidate peace and thereby foster longer-term state-building and economic development. 
What we do 
Monitor and analyze political developments in South Sudan;
Identify political early-warning signals and analyze trends representing potential threats against civilians to inform the mission's protection of civilians activities;
Monitor and provide input to the Intergovernmental Authority on Development (IGAD)-mediated peace process in Ethiopia on behalf of the mission leadership through the Office of the UN Secretary-General's Special Envoy for Sudan and South Sudan; 
Engage with national, political speakers; 
Facilitate the mission leadership's regular interaction with the diplomatic community  and international non-governmental organizations based in Juba;
Assist the mission leadership in meeting its reporting obligations to UN Headquarters and the UN Security Council, including regular reporting on mandate implementation.
What we have done 
Established coordination mechanism among international community, including support to National Constitutional Review Commission on constitution-making process;
Provided technical advice and support to government, including assisting in preparation of Elections Law and establishment of National Elections Commission;
Analyzed and reported on political impact of ongoing developments in country;
Supported SRSG's good offices mandate.
Where we are
The staff of the Political Affairs Division is all based in the national capital Juba.
Who we work with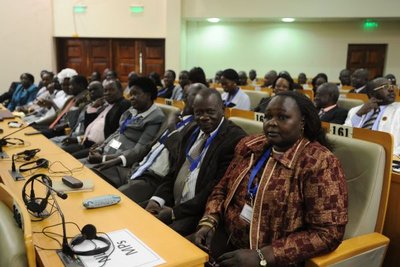 PAD's partners are primarily political actors like government officials, political parties, non-governmental actors and civil society. PAD also interacts with external actors such as diplomatic missions as well as regional and international institutions, including non-governmental organizations dealing with South Sudan. 
Within the UN, the division interacts with the Office of the UN SG's Special Envoy for Sudan and South Sudan, UN Interim Security Force for Abyei, African Union/UN Hybrid operation in Darfur and UN Organization Stabilization Mission in the Democratic Republic of the Congo.
The road ahead
Provide analysis of political developments and trends  with a view to help identify options for a sustainable political solution to the conflict in South Sudan;
Guide the mission's engagement with political actors to facilitate peace consolidation, and provide advice and support on issues related to political transition and good governance;
Provide briefings to the diplomatic community in Juba to identify issues of mutual concern and facilitate a common political position among the international community to ensure a coherent international approach towards achieving stable peace in South Sudan.