Against all odds: Bunj's biker girl becomes a boda boda road safety trailblazer
"I would like to ask you all a question."
There is a deafening silence among the group of over a hundred boda boda riders in Bunj – a bustling town in Maban in the north-east of South Sudan. The riders stare in anticipation at Hazel Dewet, the head of the United Nations field office in the area, waiting to hear what she could possibly want to ask them.
"Why is there only one female boda boda rider amidst all of you? Could someone please help me understand this?"
The first response comes from a soft-spoken and exasperated rider at the front of the crowd.
"We have taught them how to ride but they never take up the work thereafter."
Eager hands shoot up in the air. One man stands up and explains in Arabic what he believes the issue is. There is loud laughter and hand-clapping. We eagerly await the translation of this obviously humorous response.
"He says it's because of the culture. The way we sit on the motorbike and the way our passengers sit – it's not comfortable for women. Because women need to sit with their knees together," our language assistant reports.
Twenty-five-year-old Joyce Yepeta Mana, however, isn't buying it. As soon as the animated discussions wane, she speaks out boldly.
"I will make sure there are more women here when you return," she says confidently. Hazel Dewet accepts this response and promises to hold her to it. And just like that, a bond between two powerful women from two very different worlds, is formed.
Joyce stands out in the room full of men. She has a beautiful smile and takes pride in her appearance with carefully applied red lipstick and her hair neatly held in two cornrows with brown pigtails hanging over her shoulders. She wears a stylish dress that demonstrates her confidence.
Joyce knows it's unusual for a woman to take on a job as a boda boda rider which is typically seen as being in the man's domain in South Sudan. The boda boda business certainly wasn't always in her life plan. Life as she knew it came to a tragic end when she lost her husband and then her two children in Yambio during the violent conflict that has plagued the country for the past six years.
"After the loss, my sister who lives and does business here convinced me to move to Maban and start over," she says. "When I came here, I saw that there were many opportunities. I started off with a bicycle and eventually got a license to ride motorcycles and now I even have a driver's license."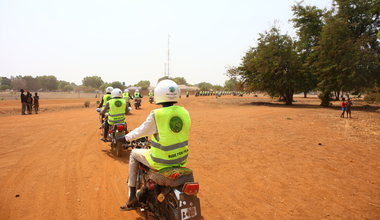 With nearly 700 riders in Maban, competition is stiff. Joyce, however, has managed to stay on top of her game – perhaps due to her glowing personality which rubs off on everyone she encounters.
"I make more than the men! Sometimes even SSP5,000 to 7,000 a day because people here like me very much."
The men don't seem to mind the 'friendly competition' from their sole female counterpart. At some point when her motorcycle won't start, one of the guys quickly runs to her aid to assist her – just as he would his sister, or wife or daughter.
The UN Mission's field office for Upper Nile, together with the South Sudan national police officers in Maban, trained over one hundred boda boda riders like Joyce on road safety and traffic rules. Refugees living in the area also took part in the training alongside their hosts. The riders were also educated on the UNMISS mandate and received reflective safety jackets and helmets for their use on the job.
"I want to encourage my fellow women to take up any business however small that can support their family – instead of always relying on their husbands. Anyone can do business."
It remains to be seen whether more women will respond to Hazel and Joyce's clarion call and join the thriving industry.
For now, Bunj's biker girl continues to rev her boda boda along the dusty marram roads of the busy town, earning a living and having fun doing it.
­