Bridging the distance: Young artists in Juba traverse the world with visions of peace
CENTRAL EQUATORIA - More than 10,000 kilometres separate Juba from New York, but such is the power of art that the visions of peace emanating from paintings displayed at the Peace Begins with Me exhibition in the former city travelled, with ease, all the way to the latter. And yet, peace, according to the winner of the competition held in conjunction with the vernissage, begins somewhere much closer.
"Peace is total serenity within a person. If you don't have it within you, you cannot access or achieve it anywhere. Peace must always be born within you," said Ashraf Abdurahman Kuku, a third-year student at the University of Juba's School of Art, Music and Drama, as he talked about his aptly named piece Peace of Mind.
Capturing the hearts of the distinguished jury, Ashraf's oeuvre depicts a free mind from which doves are taking off, possibly instructed to only come back with packages of peace strapped to their little legs.
In total, 16 art students submitted works to the competition, organized by the Community Outreach Unit of the United Nations Mission in South Sudan in partnership with the University of Juba with the objective of giving budding artists a platform to showcase their creative talents.
And a global platform it is, at least for the creators of the jury's three favourite paintings. The top three pieces of art will be prominently displayed in New York, in the office of Jean-Pierre Lacroix, Under Secretary-General for UN Peace Operations. Mr. Lacroix is also scheduled to interact with the three painters during a video teleconference, perhaps to tap into their thoughts on how to bring about peace in all the unfortunate places where it is absent.
As the journeys of many an aspiring artist, Ashraf's has been one of being misunderstood and discouraged, with friends and family considering art a frivolous rather than a productive pursuit. He persevered, however, firm in his belief that his chosen mode of communication can be used to make a positive impact.
For that, the jury (and the general public), of which Ben Dotsei Malor, Chief of the peacekeeping mission's Strategic Communications and Information Section, was part, is grateful.
"Artistic expression is a powerful tool to convey visions of the future of South Sudan," he said, clearly impressed by the talent of the contributing young women and men.
The runner-up in the competition was a painting named The Dawn by third-year student Suleiman Morgan, while Journey to Peace, created by fourth-year student John Yanga Emiliano Lado, came third.
Fourth-year student Victoria Kiden's effort The Circle of Peace narrowly missed out on the top-three but adds a female dimension to the theme of the competition by illustrating the crucial role of women in building maintaining peace.
As one of relatively few female artists in her country, Victoria is passionate about encouraging more "sisters" to follow in her footsteps and share their stories with the world.
She describes her vision for peace as a "movement that rotates" and believes that each of us has a vital role to play in creating a more harmonious world.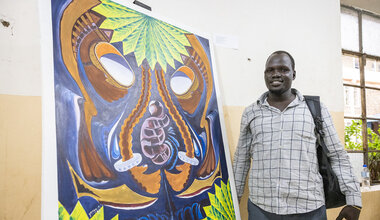 Justin Billy, Dean of the university's School of Art, Music and Drama, was suitably proud of what each of his students produced for the exhibit.
"This was a great opportunity for them to promote their own narrative. They have managed to travel inwards to their souls and come back from that adventurous journey with paintings that touch every one of us," he said.
Touched were all, and there was much rejoicing.