A football tournament boosts hopes for peace in Yei, where residents still await the silencing of guns
Animated spectators cheered the players on, in the name of peace, as a tournament that has lit up Yei town for nearly two weeks came to an end on Sunday.
"I am so delighted because this game has brought our relatives, friends and different tribes from far and near together after a long time," said Stella Ruba, a female football fan.
It was a do-or-die peace game played by Mission FC versus Hai Leben FC, with players from either club fully determined to break their legs to go away with a glittering trophy in the final game of the peace tournament sponsored, by the United Nations Mission in South Sudan, UNMISS.
Before long after the first whistle was blown, Hai Leben scored its first goal, drawing chants, ululations and cheers from its ecstatic fans. A few minutes later, Mission FC scored an equalizer, also sending a wave of thunderous jubilations as hundreds of fans cheered their players on.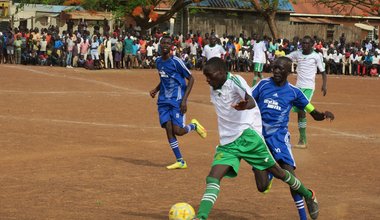 By the end of the first half, the match was deadlocked at 1-1, but a determined Mission FC scored two additional goals in the second half, making it the winner of the long-awaited peace tournament, 3-1.
"I can see hundreds of children, youth, women and the elderly coming together, socializing, meeting, greeting and embracing each other as a true sign of peace," said Winnie Tabu, another female fan whose team, Mission FC, won the peace tournament. "It has been six good years since I met some of my relatives, friends and former schoolmates," she said.
Ms. Tabu is convinced the tournament was an avenue of promoting peace through social networking, entertainment, dance and togetherness.
"When I see thousands of people coming together like this, it gives me hope and encouragement that peace has really returned to Yei. We have been watching the football game peacefully: no quarreling, argument, fighting or insulting of one fan by another. This is a show of peace, unity and love within us," concluded Ms. Tabu.
She further encouraged all girls to pursue their education to become responsible citizens in the society, adding "If there is a future opportunity, I am appealing to the sponsors of this peace game to support sports clubs for women, too, to help advance gender parity."
For Richard Moro Koffi, it was the first time that a team he supported was taking away a hard-worn glistening trophy.
"I am so, so happy that at long last, we are going home with a trophy. This has come as a surprise to me, as I least expected it. But now, I cannot explain my sincere delight, seeing my team succeed at a game like this," he said, clearly relishing the moment.
But Benson Mokili Pastino, another excited fan, had his mind on the purpose of the tournament.
"Peace starts now," he said. "We cannot expect peace to come from far away; it starts from within us through a game like this, so it is our role as citizens of this country to promote peace to encourage people to come back home and sustain our livelihoods."
Arthur Beingana, a UN Human Rights Officer and Officer-in-Charge of the Organization's peacekeeping base in Yei, said that such a gathering was a clear demonstration of the peacekeeping mission's commitment to supporting the people of Yei to achieve durable peace and rebuild their lives.
"This is an avenue to communicate what the mission does, what we need to do to achieve lasting peace and what we can do to take stock of our needs to ensure that we can get out of conflict," Mr. Beingana said, as he further advised the youth:
"Sporting activities do not only provide the youth with a platform of employment, but they also enable you to enjoy your rights to assemble, to associate and to bring to bear your needs to those who are able to support in a way that does not encourage violence."
The UN official went ahead to urge unity as an important foundation for peace.
"Just as the players in the field contribute to scoring a goal for the team as a whole, all people of Yei should work together to achieve the collective good of achieving durable peace," Mr. Beingana appealed.
The Yei River area Governor, Emmanuel Adil Anthony, was quick to utilize the occasion to build confidence within the community.
"Peace is what our people have been yearning for. Bad things have been said about Yei but today, we have seen that peace is here at home," said Governor Adil, adding:
"We are partners and we are sending one message of peace to the community through activities which unite us like this. We need to put into practice now the peace we play, talk and sing about," he said at the end of the football tournament, which kicked off on 15 March.