Opening of new Level II hospital gives confidence to UNMISS staff
It has the sterile smell of an ordinary hospital as well as the same neatly packed surgical masks and gloves, medicines, needles and other supplies needed in a fully equipped treatment centre.
The difference is, this is one of the temporary canvas wards at the newly opened United Nations Mission in South Sudan (UNMISS) Level II hospital located in Bentiu, Unity State.
The facility, operated by the United Kingdom Medical contingent, will provide medical care to over 1,800 military and civilian UN staff working in the remote Protection of Civilians site in the north of South Sudan.
Speaking at the official ceremony, British Ambassador, Alison Blackburne, said the opening of the hospital was "a very visible and tangible sign" that great progress is being made through the deployment of medical personnel in very testing conditions. She highlighted the important role that UNMISS was playing in helping protect civilians and bring peace to South Sudan.
While the facility will not treat local people in the area due to limited resources and limited capacity, the Commander Medical, Lt. Col. Michael Hepburn, said the hospital will give UN staff and troops peace of mind knowing that they will receive treatment if they are injured or fall ill.
"Knowing that there are people close that will provide you with a high level of medical care will give UN personnel the confidence to go out and give security that will help the people of South Sudan."
"There is that dotted line that goes from this hospital through UNMISS then over to the people of South Sudan," the Lieutenant Colonel said.
The hospital has out-patient and in-patient services, a surgical theatre, X-ray and head CT scanner, dental and laboratory facilities, wards including an isolation facility and aero-medical evacuation.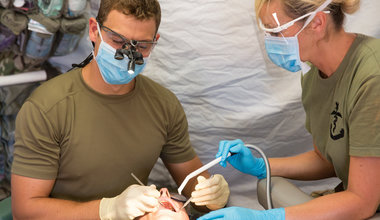 UNMISS Chief Medical Officer, Dr. Iqbal Modh, said the hospital will also ease pressure on partners such as Médecins Sans Frontières (MSF) working in the area and that they will continue to work together.  
"UNMISS will maintain the hospital and keep it running despite challenges such as location, weather and logistics," said Dr Modh.
The UK engineering team will build a permanent field hospital to replace the temporary facility.