Yei peace tournament concludes with a call for unity and reconciliation
Yei Freedom Square was this past weekend the scene of scintillating footballing action as Nasir FC took on Mahad FC in what was dubbed "the Yei peace football tournament."
Sponsored by the United Nations Mission in South Sudan (UNMISS), and organized in collaboration with the local Ministry of Information, Culture, Youth and Sports, the tournament attracted a crowd of animated spectators who came from all corners of Yei town to witness the event.
"I am excited, encouraged and with high morale that whatever the circumstances, we can now compete even in East Africa and beyond after winning this remarkable game," said a 26-year old Nasir FC fan, John Kenyi.
His sentiments were echoed by the area governor, Emmanuel Adil Anthony, as he presented the top gong to surprise winners Nasir FC and paid tribute to their worthy opponents, Mahad FC, as well.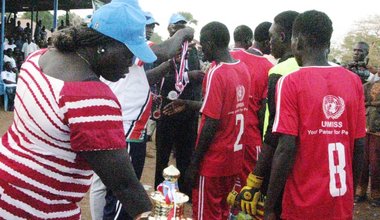 "You have demonstrated that you are building your potential and that you can challenge not only the teams in Yei, but also other teams in South Sudan … congratulations!"
The game had been tied at 1-1 until the 60th minute when Nasir FC broke the deadlock with the day's third goal on the scoreboard, sending its fans into a frenzy of jubilation.
Moses Laya, a thrilled 38-year-old spectator, said that he could not believe his eyes seeing such a huge number of attending football fans, adding it was evidence that those who had been keeping themselves indoors due to fear of insecurity had now had the chance to witness such a momentous event.
"This tournament has brought people from all walks of life, because it is memorable, very exciting indicating that we are moving forward in terms peace and unity as it helps keep the youth busy," Mr. Laya said.
Governor Adil, equally impressed, commended UNMISS for funding and organizing the peace tournament, saying it was proof that the Mission was an important partner for building peace in the country.
"You have shown that building peace needs carrying out activities which promote it, especially sports," he said.
Underscoring that women and youth are key pillars in the cohesion of any society, the Governor said that realizing peace and stability would mean empowering them, and that sports play a key role in promoting peace and in overcoming post-conflict trauma.
He urged those living in the area to embrace peace and cultivate a culture of unity and social cohesion by shouldering what unites the people and shunning what divides them.
UNMISS representative in Yei and Head of the UN Refugee Agency, Francis Ezike Okagu, said the peace tournament was a platform for all stakeholders to promote national unity, peace and genuine reconciliation at a time when the once strong social fabric in Yei had been torn apart by the war.
Area Minister of Local Government and Law Enforcement, Huda Laila, urged all residents to unite to prosper in durable peace.
"Conflict will not help us at all, but peace will make the state prosperous and sustainable, and all tribes will live here happily together," Ms. Laila said.
Participants were awarded trophies, gold and silver medals, certificates of participation, jute bags, pens, textbooks and T-Shirts.