Yei women engage in creative activities to improve livelihoods, heal trauma
Members of a Mothers Union in Yei town in the Central Equatoria region, said they are using their creative skills and talents to earn a little income to make ends meet and forget the horrors left behind by the previously frequent fighting in the area.
Comprising 90 members, the Mothers' Union brings together females from all walks of life. Women and girls, widows and orphans, school dropouts, as well as women traumatized as a result of exposure to nearly three years of horrendous atrocities, are all involved.
The women are engaging in a wide array of activities, ranging from making beaded bags, handheld purses and necklaces to knitting table clothes and tailoring.
"The little money I get through these activities has helped me send my children to school, treat sick family members, as well as help bring food to the table. Before it was almost impossible to imagine how my family would survive," said Anna Augustion, a 39-year-old single mother of six.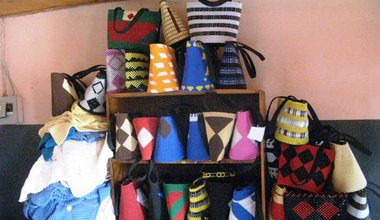 She lost her husband in the heat of the fighting in Yei. She says that using her creativity has not only provided her an extra income but has also brought her a sense of relief from all bad memories.
"I am free of trauma now because of this job. If there is peace, I can make more bags, and I believe the future of my young siblings will be much brighter than I might have expected before," she said.
She added that she is glad that she has been witnessing a period of relative calm in her native town of Yei.
"My parents were born in war; I am also coerced to bring up my children in war, but I pray for this war to end soon, so that we can have a future that is full of freedom, hope, trust and love," she said.
Anna Augustion is not the only one making the most of her artistic skills.
A 29-year-old mother of two, Susan Akujo, had been battling years of nightmares following three successive armed attacks on her family. Robbers made off with all of her valuables they could find. 
"I had too much trauma before I got this training. I used to lose my thoughts to such an extent that sometimes I would not even respond to simple greetings like 'good morning', but now I am back to life through our constant interactions here," Ms. Akujo said, adding that the permanent presence of UN peacekeepers has contributed to her wellbeing.
"When UNMISS first arrived in Yei years ago, gunshots were being heard everywhere, and killings were nonstop, let alone lootings around and outside the town. Now guns have gone silent for the last one month thanks to the arrival of UN peacekeepers in Yei. The coming of the peacekeepers reminds us that we are not abandoned people, and that is what gives us hope."
Ms. Akujo is urging the UN peacekeepers to continue protecting the vulnerable groups of the population, especially women and children.
"I believe Yei is heading towards its original state of peace, unity and peaceful co-existence."
She urged the South Sudanese leaders to first embrace peace themselves because the outcome of the rounds of peace talks in Ethiopia lays solely in their hands, adding that all South Sudanese are watching.
A recently married 23-year-old school dropout, Anna Aisha, says that she is delighted that she has finally seen light at the end of the tunnel thanks to the training provided by the Mothers' Union, which for the first couple of years of its existence received some funding from the UN's Children Fund, UNICEF.
"When I first came here, I was a living blind, because I had no idea about how to assemble the beads to produce even a small bag. Now, I can do it with relative ease," Ms. Aisha said. "I can use the money I get from the sale of my bags to buy soap and other household items."
Ms. Aisha appealed to humanitarian organizations to support them by providing tailors to train them, saying that the Union owns about seven sewing machines but lack instructors.
She also decried a lack of raw materials for making their items, blaming it on the staggering dollar rate against the pound, but she remains optimistic:
"What we want in our country is peace first, and when we have peace, all the skyrocketing prices will fall under their own weights."